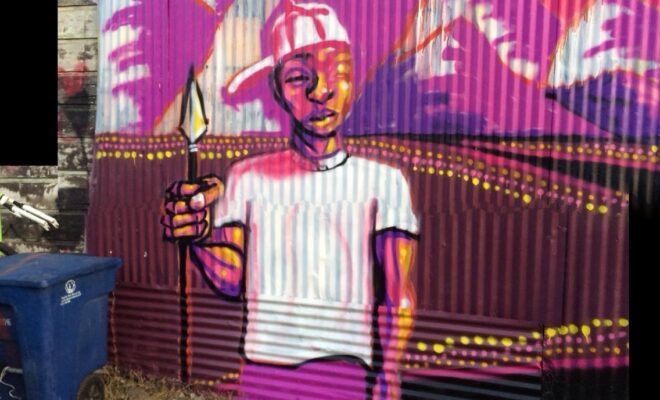 Blog
The Black Arts Movement (BAM) Goes Virtual for #BlackAugust2020
Worldwide protest movements this summer have signaled a turning point in the US, and in addition to inspiring actions in Los Angeles and other well-known cities, Oakland, California has been a major catalyst for the momentous social change that is happening worldwide. Oakland (aka "The Town" and the home of the Black Panther Party, among other powerful social justice organizations) has been home to multiple marches and actions over the last month. Downtown Oakland and nearby neighborhoods have been filled with AMAZING works of art from local muralists who have transformed the streets into a gallery garnering national attention (including coverage in The New York Times). Despite the turmoil surrounding a centuries-long battle with racist violence that is often state sanctioned, Oakland's creativity is shining a positive light leading all of us toward the beautiful future world we know is possible. 
The Black Arts Movement Business District, Community Development Corporation (BAMBD, CDC), is dedicated to animating the Black Arts Movement Business District, Oakland's only formally declared Arts District. BAMBD, CDC is invested in place-keeping and place-making through uplifting creativity. BAMBDFEST 2020 is the second annual month-long festival celebrating the District and the Black Arts Movement, (BAM). This year's festival will be an eclectic series of virtual offerings.
This month of solidarity in expression, education and reflection began during the Black Power movement organized by incarcerated political prisoners. August is a month claimed outside of February to celebrate the history of Black resistance. Starting with the Haitian Slave Revolt, Black history has been made in August. The Nat Turner Rebellion, Henry Highland Garnett's slave strike, the Fugitive Slave Law Convention, the birth of the Underground Railroad and the Brotherhood of Sleeping Car Porters, the March on Washington, the Watts and Ferguson Uprisings, the births of Marcus Garvey, Russell Maroon Shoatz, Barack Obama, Fred Hampton, and Dr. Mutulu Shakur, the deaths of W.E.B du Bois, George Jackson, Jonathan Jackson, John Crawford, Mike Brown, and Korryn Gaines all occurred in August.
As a global health crisis has been throwing our lifestyles into flux, the power of cultural expression to get us through this difficult time and move us forward has become undeniable. Now, more than perhaps ever before, Black Art is MEDICINE for our spirits and minds. Click here to register now. The majority of events will be free to the public and available at a variety of time slots to ensure accessibility.