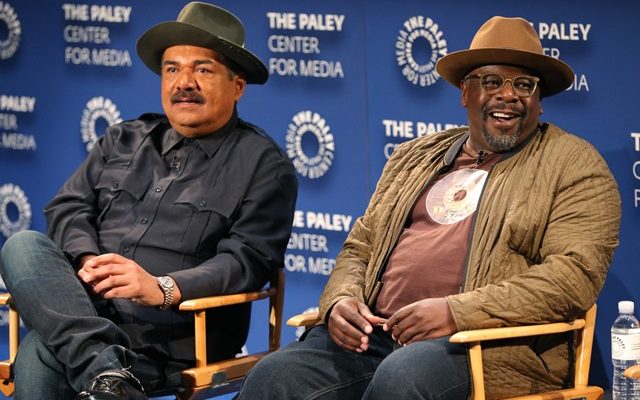 Blog
George Lopez & Ced the Entertainer Talk The Comedy Get Down On BET W/ Miss Conversation Piece
By
|
Paley Fest Previews New Series The Comedy Get Down Coming This Fall To BET
To help kick off the Fall TV season buzz, Miss Conversation Piece stopped by the 11th annual PaleyFest Fall TV Previews at the Paley Center's Beverly Hills location. The Paley Center for Media hosted the ten-day festival celebrating Fall TV's most anticipated new series and allowed fans to get a first look at The Comedy Get Down. Attendees got to see early premiere screenings of new and returning fall shows and Miss Conversation Piece was live on the red carpet with panelists Cedric the Entertainer, George Lopez, and Yvette Nicole Brown as the moderator.
The Comedy Get Down series chronicles the behind the scenes of the tour with Cedric the Entertainer, D. L. Hughley, George Lopez and Eddie Griffin. We got a chance to see a sneak peak of the show and it was super hilarious with cameos from the late and great comedian Charlie Murphey.
On the red carpet, Yvette Nicole brown spoke on how Cedric the Entertainer and George Lopez as fellow comedians and actors have impacted her career. We also got a chance to speak with the moderator of the evening about her role in the new ABC show "The Mayor."  She also gives her opinion on pay inequality for black women in the entertainment business as well.
Next up we got tons of laughs with Cedric the Entertainer when he shared his favorite memories on tour and his favorite projects that he has worked on in his career. George Lopez chimed in on how they turned The Comedy Get Down tour into a TV show and what to expect on the 10 episode series. George also spoke on the potential for there to be a 2nd season in the works. Be sure to look out for The Comedy Get Down each and every Thursday night on BET networks.
For tour dates check out www.comedygetdown.net